Nefesh Music can serve all of your musical needs…
From a three-piece band to a 32-piece orchestra.  Nefesh Music can accommodate  affairs of all sizes.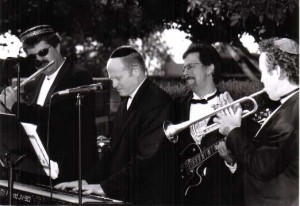 FULL SERVICE ORCHESTRA:
From a two piece duo to a 40 piece swing band, Nefesh Music Jewish Orchestra services  can create any style music.
ONE MAN BAND:
If your  budget is limited, or you simply want the ambience of a single musician,  we can provide you with plenty of spirit and energy to set the tone for any style party.
STRING ENSEMBLE:
The  String Ensemble is the perfect addition to any event, with its elegance  and composure, the String Ensemble will add class to any venue.
DJ SERVICES:
Don't need an entire Jewish Wedding Band? Want a hip DJ to keep the party going? Then this is what you need. Our friendly DJs will bring spice to the room with tons of energy to go around.
DANCERS:
Sometimes you just can't rely on your guests to keep up the energy on the dance floor. Add some spice to our Jewish Wedding Band and let our professional and friendly dancers bring Ruach (spirit) to the room and get your guests involved in the Simcha.
MULTIMEDIA SERVICES:
Nefesh Music can provide your event with professional high-end multimedia equipment such as video projection, live video feeds and sound system rental and setup.
STAGE AND ROOM LIGHTING:
With our incredible lighting services, we can transform a gloomy room into a magnificent palace. From small lighting packages to full room assemblies, you lighting specialist will take your ideas and turn them into a dream come true.
———-
No matter what service you select, our goal at Nefesh Music is to make your Simcha into an event, and one that will never be forgotten. With our Jewish Wedding Band and Orchestra
services, we will make it happen for you. Our greatest compliment is that your Simcha will be everything you have ever dreamed of, and we do so while keeping within your budget.
With our Jewish Wedding Band services, we strive to make you happy, and we will go to any length to do so. We play all types of music from Simcha Music to Chassidic and Klezmer and from Motown and Swing to Rock 'n' Roll. We customize the music to your specific tastes and needs.  We also provide party planners, string ensembles, sound systems, dance
instructors and leaders, and DJs.  No request is too small for us.
For recommendations, please email us at info@nefeshmusic.com
We  specialize in: Weddings, Bar/Bat Mitzvahs, Banquets, Private Parties and other Special Events
—–
Jewish Wedding Band and Orchestra Services